Introducing My New Elite Coaching Mega-Bundle
Hi Lee,




I just want to say WOW??! YOUR PROGRAM IS THE REAL DEAL !!! I have completed only ¼ of the program and I already have a client. Thanks Lee.




Best regards,




Stu
After taking Lee Cole's course, I completed all the webinars and built a website for PR services in just a few days. Lee reveals the "secret" I wish I already know on how to structure your agency for a recurring monthly income while working part-time. Best of all, I got my first client in one week! I highly recommend Lee Cole's course!




Liza L.
Hi! I'm Lee Cole. In 2010, I quit my job as a mathematics teacher and started an offline business. I had my first client within 24 hours. I landed my first long-term recurring income client within a month. (We're talking over $2k per month, each and every month.) Since 2011, I've trained hundreds of people to successfully change their lives by learning how to start real offline businesses that actually work.
In this short sales letter, I want to talk to you about how you can finally start and grow the offline business you've always dreamed of!
Now's Your Chance to Get Over 32 Hours of Top-Flight, Life-Changing Digital Marketing Coaching, At a Price Anyone Can Afford!
There are just a few obstacles standing between you and massive success. No, it's not finding the right bright shiny object, or buying yet another $27 info product to collect cyber dust on your hard drive. All that stuff that you probably bought is good, but it will never get you to the place you want to go. There is no software, no magic three steps, no "insider secret" that will automatically build your business for you.
The only way to build a real, six-figure digital marketing business is to master specific basic skills, such as business structure, prospecting, and sales skills. Once you master those skills, building your business will be relatively easy.
The main problem most people have with building a real business is hardly anyone teaches the skills you need to do this. Most vendors sell software and "methods" that are too specific to base an entire business on. Most people buy these info products and after the excitement of the purchase dies down, they have no idea how to really implement what they just bought.
The problem is they don't have the real business understanding and skills they need to make the stuff they bought actually work.
If you don't know how to sell, I don't care how many new info products you've bought that have promised you instant success. You're going to have a hard time, because you just don't have the basic skills, for selling, prospecting, and for building a real business.
When I started my own business in 2010, I had an $800 check in my hand from my first client in less than 24 hours. In only three months, I had matched my income from the job I just quit. A few months later, I doubled that.
The reason I could do this was because I already had learned basic business building skills, especially prospecting and sales skills, in previous businesses. So, it was easy for me to transfer these skills to selling digital services.
Last year, I did four group coaching classes. My intention was to finally provide people with the sales and business training they needed to actually start having success building their digital businesses.
These classes were wildly successful!
People with all backgrounds were finally able to learn the real skills they needed to create real businesses.
Unfortunately, the classes were fairly expensive and not everyone could join. Which is why today I'm offering the replays of all four classes for a price that anyone can afford.
Over 32 Hours of Webinar-Based, Cutting-Edge Training at a Massive Discount!
I can't stress enough how in-depth this training is. I also can't stress enough how necessary it is! If you've been struggling with your business, this training will help you finally break through the obstacles that are holding you back.
I'll sum up everything you get below. For now, let's look at what you'll learn from each of these classes.
For One Low Price, You Get the Replays to Each of These Classes. 32 Plus Hours of Business Building Training!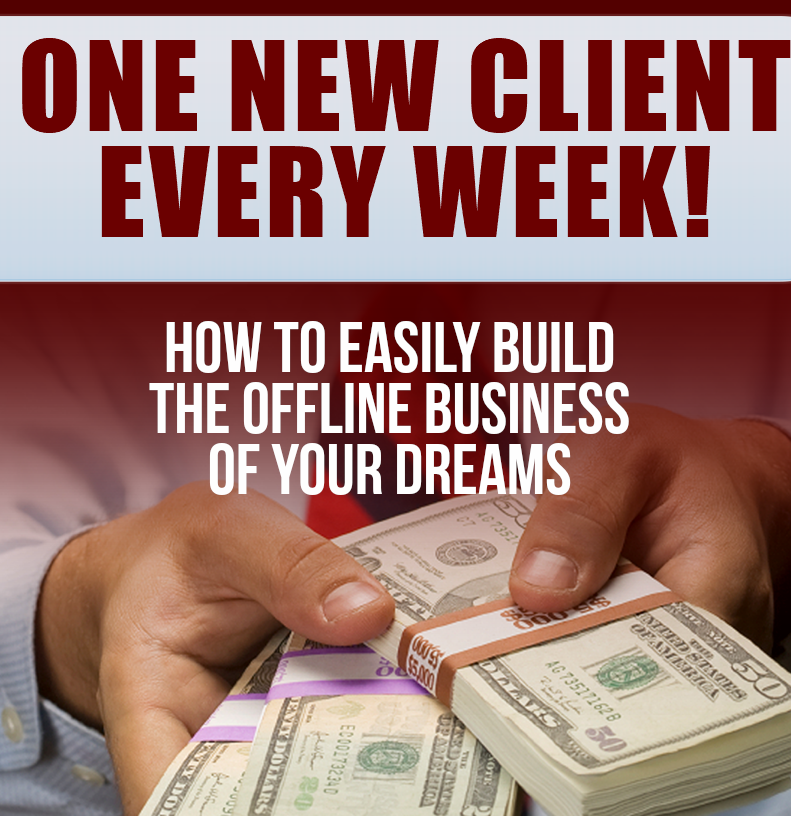 Training Replay #1: One New Client Every Week—My Proven System for Landing At Least One New Client Every Week
One new client every week. 50 clients per year. Anywhere from 25% to 33% of those will turn into high-ticket, recurring income clients paying you anywhere from $500 to $2000 per month like clockwork, each and every month. This type of income is completely possible for anyone who's willing to put in a little sustained work and apply proven business principals to the task of building a real business...A $97 Value!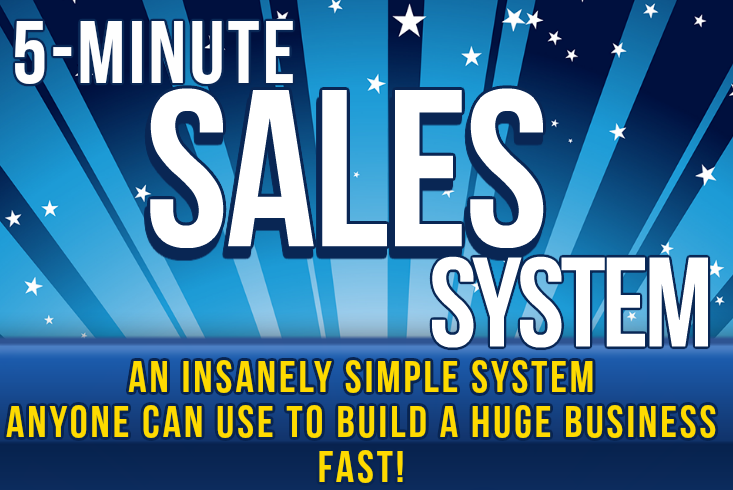 Training Replay #2: 5-Minute Sales System—Takes the fear out of selling!
Take the fear and stress out of selling with my 5-Minute Sales System. In this course, you're going to master my proven system that lets anyone learn how to sell high-ticket digital marketing services quickly and easily. If you're not a "born salesperson" this is for you! You'll learn how to sell with zero stress. How to create marketing assets that will do the selling and closing for you. So simple a twelve-year-old could do it. Get this today and get over your sales issues FAST...A $97 Value!
Training Replay #3: 30 Days to FREEDOM—How to Build a Professional Marketing Agency
Let me invite you to get the replays of my new webinar-based, group coaching class, 30 Days to FREEDOM. In 30 Days to FREEDOM, you're going to learn the exact steps to build a real local marketing business fast! One that will give you the money you need and the time to enjoy that money. You'll learn the exact blueprint to follow to build a real marketing agency. If you actually do what I'm going to teach you, you'll end up with a six-figure business that only can run in just a few hours per week. Best of all, you can get this entire business in place in 30 days or less...A $97 Value!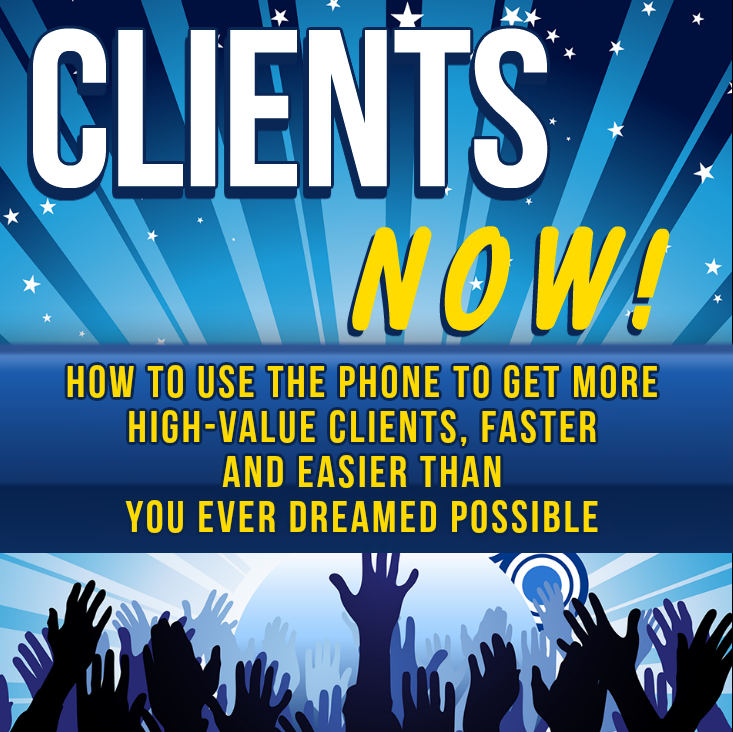 Training Replay #4: Clients Now! –Create High-Paying Clients at Will!
How would you like to wake up in the morning and by lunchtime have at least one new client for your digital marketing business? I've coached people just like you who want to start and build digital marketing businesses for years now. One of the biggest issues I've seen is that most people lack basic skills. One of the most important skills that holds 99% of would-be digital marketers back is the inability to sell and communicate effectively using the phone (or Skype or Zoom). Lack of mastery of this basic skill actually cripples more fledgling businesses than you could believe. In my course, Clients Now!, I teach you how to master sales and especially phone sales so you can get clients faster and easier than you ever thought possible...A $97 Value!
Here's What All You Get When You Buy Today!
To summarize, today you can purchase the replays from my past four webinar-based, group coaching classes. This is over 32 hours of in-depth training on the real skills you actually need to start and grown a local business marketing agency. You'll learn everything you need to know, including...
How to structure your business for ease of growth and max profitability
Exactly what to sell...and what to avoid selling
How to price what you sell and how to turn a one-off sale into a monthly recurring sale
How to easily find potential clients who are dying for your service
How to never prospect again
How to have prospects call you, begging you to take them on as clients
How to sell without "sleazy selling" and how to make your prospect WANT to buy from you before they even speak with you
How to create a virtual "machine" that does all the prospecting for you
How to create sales materials that do all the selling for you
How to create a huge monthly recurring income so that
You're going to learn all this and much, much more!
32 hours of intensive training from a guy who's been there and done that…me!
With the training you'll get from my Elite Coaching Mega-Bundle, you'll finally learn the skills you need to build a real business faster and easier than you ever thought possible, even if you're a complete newbie.
Bet you're thinking this massive amount of cutting-edge, money-making training is going to cost you an arm and a leg.
Not at all!
If purchased these replays individually, you'd pay close to $400 for all of this training, and it would be completely worth it!
Today, I'm not charging you nearly that much!
Today, you can get this whole thing for…
Finally Learn the Skills That Will Set You FREE!
Trying to build a digital marketing business can be extremely frustrating…when you don't have the right training. Unfortunately, most people never actually find the right training.
You, my friend, are in luck! You're here reading this sales letter, and you have the opportunity to get the training you need to crush your business!
Buy my Elite Coaching Mega-Bundle today, and start building the business you've always dreamed about faster and easier than you ever thought possible.
Questions You Might Have...
Guaranteed?
Of course! 7 day, no questions asked. Just like all our products!

Is This Newbie Friendly?
Absolutely! As a matter of fact, you're in luck. If you take this training, you'll spare yourself the frustration that so many experience, sometimes for years!

Is This Suitable for Advanced Marketers?
I've never met any marketer at any level who couldn't benefit from this training. So, yes...you still need this!
Any Other Questions?
If you have any other questions, here's the link to support. Feel free to ask me whatever you need to in order to make a good decision for yourself.
Buy my Elite Coaching Mega-Bundle today and get ready to build a business that will give you the money you want and desire and the freedom to enjoy it today!